Post-Shipping Marketing: A Strategy For Increasing Cross-Border E-Commerce Turnover
Blog
June 22, 2022
Cross-border e-commerce – online shopping on foreign websites – is an increasingly widespread phenomenon. Nowadays, provided a website is well-adapted to the country in question (language, as well as the offer, currency, services, etc.), consumers tend not to notice which country their goods come from. According to Statista, international online sales will reach 22% of total sales by the end of this year; a sharp rise from the 15% of 2016, as well as a predicted annual growth rate of 27% between now and 2027.

Clearly, acquiring new customers abroad is a great way to increase business. But, inevitably, it also means increased competition. One of the key areas of international shopping is shipping since, without local warehouses, it can take several days and sometimes requires switching from one courier to another. It is therefore wise to devise marketing strategies that ensure a good customer experience during the after-sale and promote future purchases from the website.

We take a look at how to help increase turnover from cross-border sales via a strategy that involves:
- Simplifying international logistics and reducing customer service costs: improvement of the experience of waiting for international shipment.
- Customising post-shipment communications according to individual country and user.


Simplifying international logistics and reducing customer service costs
Increasing profits on cross-border sales cannot be achieved without reducing costs and optimising certain processes. Selling in a number of countries means using a number of couriers, both internationally and locally. International transport services tend to be expensive, so it usually pays to use an international courier for shipments to a hub, and a national courier for domestic routes (sometimes large transport companies offer these solutions).
To support
cross-border expansion
, it is very useful to have a
program that allows new couriers
to quickly connect and monitor shipments
from a single panel. This means labels can be printed and applied to parcels quickly, as well as displaying all shipment information to all countries, on one screen and in a standardised way.
Software such as Qapla'
simplifies the whole process, making expansion to new countries far more sustainable.
Each courier has its own language aside from the language of the country. Couriers communicate tracking updates in varied (and sometimes unintelligible) ways. A 'delivered' parcel might be 'on its way', 'expected at destination', 'ready for delivery', etc. This can confuse both the service team and the recipients when receiving notifications directly from the couriers. A dispatch management program serves to unambiguously
decode and standardise updates from multiple couriers
. This simplifies and reduces the work of the support team, who are able to see all of the data on one panel and are therefore able to anticipate any issues, or retrieve information relating to customer queries on the spot. All of this leads to a net reduction in costs.
With regard to the customer, the centralisation of all data means it can be
communicated simply and comprehensively
. For example, in the case of one courier being changed to another, the entire history of the shipment can be tracked on a single
tracking page
. The assignment to a new courier and a new tracking number is reported.
On a logistical-operational level – particularly when looking to expand in certain countries, and with cost optimisation in mind – using
warehouses
abroad and
outsourcing fulfillment
and customer care services should be a consideration. By doing this, you begin with more flexibility and less risk, rather than employing new operators for
logistics
and customer service for foreign countries from the get-go.

Improving the waiting experience in international shipping
One of the key parts of cross-border e-commerce is 'localization' of the shopping experience. This does not simply encompass language, currency and advertising campaigns, but all communication related to shipping. We recommend opting out of courier dispatch software and instead setting up a marketing automation system that sends tracking notifications when certain shipment statuses occur, with your store listed as the sender. These emails, SMS and even WhatsApp messages have open rates of over 70%. The systems recognise the destination country for the goods in question and set communication to the language of that country. As a result, the customer processes messages easily and any frictions associated with buying from abroad are eliminated.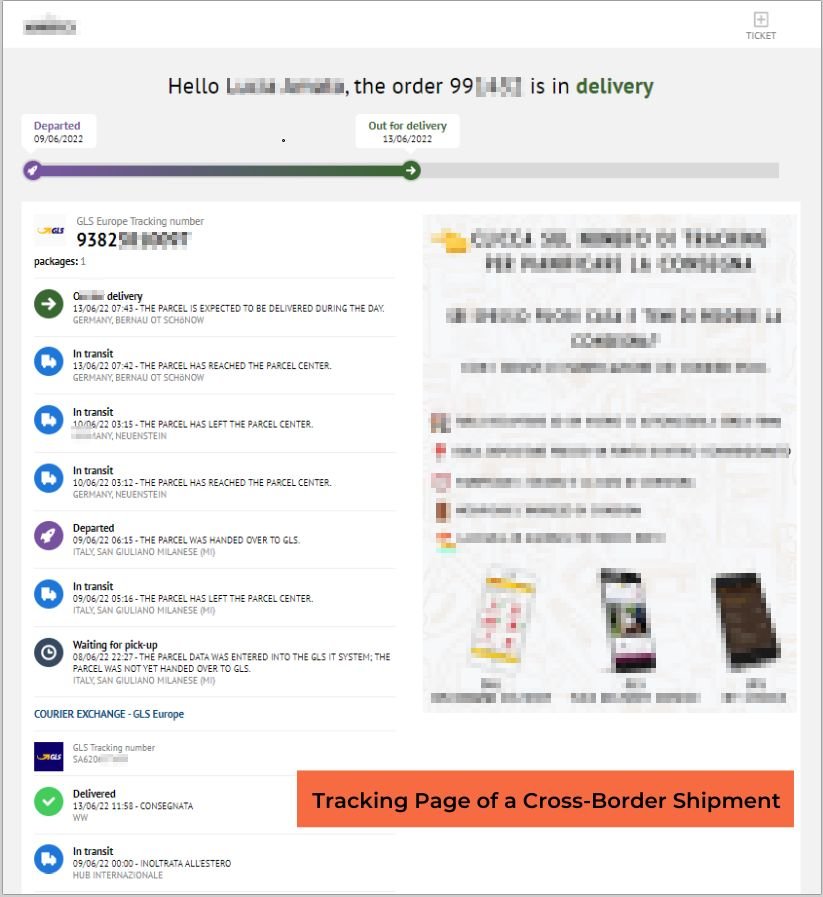 Consumers rate shipping notifications highly. In fact, 82% consider proactive communication about order confirmation, fulfillment and various steps in the shipping process, as being important where repurchase decisions are concerned (source: MyCustomer). In addition to improving the overall shopping experience, the result is an average 54% drop in Customer Care being asked "Where's my parcel?" Activating an automatic customer notification system, and lowering the number of calls and messages from all over the world in the process, helps keep costs for international customer care down.

Another strategy is to create a section on the website dedicated to package tracking by inserting a script that allows dialogue with post-shipment software. Similarly, a chatbot can retrieve tracking information when receiving queries on the subject.


All of the above contributes to a positive experience when waiting for a shipment, which has a huge impact on loyalty and, in turn, future turnover. 60% of eshoppers say they would not repurchase from a site if they had negative after-sales service (source: Ameritas Insight).
Customise post-shipment communications according to country and user
If you already sell in foreign countries, you can carry out an analysis of which products sell best in certain markets and which have the highest margins based on sourcing and shipping costs. If you are about to expand beyond your own borders, you will need to conduct surveys and market research on local trends and competitors. With this data in mind, you will be able to maximise your sales opportunities, even at the shipping stage.


Email, SMS and WhatsApp
tracking notifications
keep the customer informed and reduce any anxiety and/or requests directed at Customer Care. They also play their part in
e-commerce marketing
and promotional strategies.
By preparing templates for each of your target markets, you can insert, for example, banners showing the best-selling products in a certain country or promotions related to holidays in that country.
Furthermore, knowing that Northern European countries place greater emphasis on environmental sustainability, communication to those countries can be customised with messages highlighting initiatives to this effect or the environmental characteristics of products or packaging. If, on the other hand, you know there are high expectations for customer service in other countries, more emphasis will be given to contact times and channels. Exploring customisation a little further, scripts from tools such as
recommendation tools
can be incorporated, allowing you to show the user products in line with their preferences and past purchases. These tools can help you, even if you do not have data on preferences in a particular market, as they are based on the history of each customer and processed by artificial intelligence.
A complete
post-shipment management platform such as Qapla
' also includes an editor for the creation of these email and tracking page templates. As well as allowing html input, it is an easy-to-use, drag-and-drop tool, and compatible with all other external marketing tools (review services, cross-selling and upselling, support widgets).
A final word of caution concerning the packaging: make sure that vouchers, brochures or instruction manuals are all in the recipient's language.